In June of 2009 the Russian Federal Agency for Youth Affairs invited the Center for Interethnic Cooperation to take part in the pan-Russian forum 'Seliger 2009'. The youth forum's organizers planned to bring together around 4000 students from various regions all over Russian Federation. To that end, a special website was created so that young people could post information about their projects. Those who posted the most interesting projects were promised a place at the forum. It is important to note that this year's Seliger forum was the first ever to have tolerance as one of its main themes.
For several years now the Center for Interethnic Cooperation has been conducting trainings and seminars throughout Russia that are devoted to tolerance amongst the country's youth. Yet it is clear to us that without state support it will be impossible to change young people's mentality. Therefore, the Center has repeatedly requested that the state create a special program to support tolerance among young people. We hoped that having a forum on tolerance would be the first step towards developing a government-sustained program. So we decided to gather a great team together and tell the forum's young participants about the projects we conducted in the past as well as encouraging them to think about creating this kind of event on an even bigger scale. 
We elected Maksim Zhilyaev to be our team leader as he already has experience in several Russian and international trainings and conferences. Our group was made of twenty young people from Moscow, Samara, Astrakhan, and Nizhniy Novgorod who had all previously worked with us in similar projects. We held many large team-building exercises to prepare for the conference. Each team member was equipped with informative leaflets about our projects. They participated very actively and enthusiastically in all aspects of the forum. The focal point of the forum was the campsite, where everybody lived in tents and had to cook over a camp fire. We received many guests to the camp that wanted to get to know us and find out more about our projects. As a result of the aforementioned project selection, Maksim was chosen to be part of a small group that traveled to Barvikha to meet with the Russian president. Also, the president had a video conference set up with the campers back at Seliger. The president answered several questions - stressing the need for tolerance amongst the country's youth. He mostly talked to the forum organizers, so, unfortunately, there was not any time for Makism's presentation in the end.
Throughout the conference the participants attended several meetings with some very interesting people - including representatives from different national ministries and departments. Our team members did not just talk about our own projects but also had the opportunity to speak and discuss issues with many professionals.
Seliger left us with two different impressions. First, we realized how difficult it is to host an event on such a scale - with several thousand young people that do not know each other. It is very hard to provide a safe environment, food, water, and all other necessities for such a large amount of people. It should also be noted that it is very difficult to attract civil servants and experts to an event like this. Selinger's organizers successfully dealt with all of these problems. However, the almost military discipline, mandatory attendance to all of the lectures, and the over-the-top patriotic propaganda was definitely not to everybody's taste. It was also evident that, once-off events like these, even though massive, are insufficient to combat the wave of xenophobia in our country.
As a result of the forum the director of the Agency for Youth Affairs, Visili Yakimenko signed an agreement with Maksim Zhilyaev guaranteeing support for our new project, 'Preventing Interethnic Conflicts and Promoting Tolerance amongst Young People'.
On the 17th of July the State Council convened for a meeting in Moscow with the Russian president Dimity Medvedev on the topic of youth involvement in politics within the framework of Youth Year. Several important figures attended the meeting including the Minister for Tourism and Youth Vitaliy Mutko, the director of 'Rusyouth' Vasiliy Yakemenko, and governors from several key regions.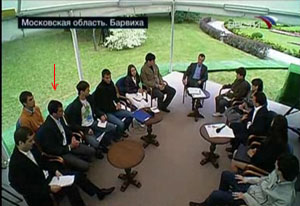 The president and members of the State Council listened to a report by Youth Year's Moscow coordinator Marina Zademidkova. In the report she informed the country's leaders of the Seliger-2009 Youth Forum and its participants' innovative projects. She went on to talk about the project that was led by Maksim Zhilyaev. President Medvedev recommended that the governors support the youth projects in the future. At the request of the Federal Agency for Youth Affairs the project was to undergo three changes and then... silence. A month later the Center for Interethnic Cooperation contacted the Federal Agency for Youth Affairs and governors of forty regions throughout Russia requesting support for our project. Only half of the governors responded to our letters. They were all united in their admiration for our project and understood the importance and relevance of our work for their individual regions and for Russia as a whole. However, there simply wasn't any money set aside for these kinds of projects in the regional budgets. We are, after all, going through an economic crisis. It is strange, however, that after Seliger 2009 many regions held their own forums, but there wasn't any state programs supporting tolerance amongst young people - and there still isn't.