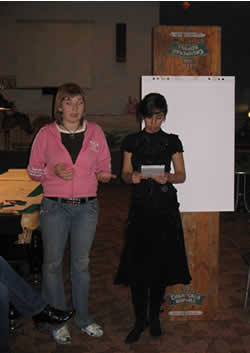 The Center for Interethnic Co-operation led its first training session "Russian Network of Ethnic NGOs – Techniques to start with" for the Network of Ethnic organizations from 22nd to 24th October 2006 in the Samara region, Tolyatti. 23 participants took part in the training.

We have noted many times that in Samara we have excellent relations with both representatives of the local authorities and with ethnic leaders. For this reason we decided to carry out the first of three trainings we had organized in Samara. The trainings are aimed at young representatives of ethnic organizations in Russia and are part of the project "Development of the Network of Interethnic Organizations for the Opposition of Racism in Russia".

This project has received financial support from the European Union, and we organized the project together with our partner, the European-wide organization UNITED. Its Director, Geert Ates, flew in from Amsterdam to tell our young active workers about the experiences of their European colleagues. Geert also invited a public relations expert from Prague, Miroslav Prokesha, to assist in the seminars. Miroslav's great sense of humor and insight were very welcome and made the workshops more enjoyable and interesting for everyone involved.

Originally the workshops were to involve young representatives from public organizations and representatives of the authorities from the Southern Federal Region. The Stavropol participants let us know that they would not be attending one day prior to the start of our training, whilst those from Saratov let us know that they could not participate on the day itself, albeit with a thousand apologies. Representatives from Volgograd also failed to arrive without any explanation.

Unfortunately, discipline, punctuality and the ability to keep one's word remain skills which many Russians have yet to master. For our Dutch partner, whose schedule and lists of participants for all his activities are detailed six months in advance, such a situation caused shock and amazement. For us, having nine years of experience we had come to expect as much.

The training was all the more pleasant for the presence of young active workers from interethnic NGOs from the Krasnodar region Aminat Shaminoy and Mgera Simonyana. Together with representatives of Samara, Tolyatti and Tchapaevsk, they worked wonderfully on training and brought a little southern sun to the cloudy Volga region. This training could not have taken place without the active organizational and financial support of the Samara area administration and the selfless work of two women – Nadezhda Petrovna Osupovaya, adviser on ethnic issues to the Samara regional authorities, and Natalia Petrovna Kutyrevaya, a leading expert for information-analysis at Tolyatti town hall. With their overloaded schedules, all of them helped us. Many thanks!

The Workshops

Victoria Shukhat and Ashot Ayripetyan began by having participants describe a portrait of a typical young man from Samara. These were the results:

The typical young man of the Samara area 2006
Aggressive
Likes to have a good time and live fast
Loves alcohol and smoking
Not a home owner
Indifferent attitude to other nationalities
Latent nationalism
All those present at the youth workshops: ethnic NGOs, the press and state representatives, expressed strong concerns over increasing nationalism among young people.
We asked what people thought were the causes of growing nationalism among young people.
These were the results:
Reasons for the occurrence of fascism:
Influence of mass-media, TV, (aggression, enmity, violence)
Social influences (family, school, etc.)
Ignorance, illiteracy.
Physical and moral weakness of the person (under the influence of the leaders of fascist organizations)
Provoking behavior by individual members of ethnic groups
Lack of social security
Lack of state youth policy
Lack of common ideology, moral values
Taunting
Ignorance of the culture of other peoples
Feelings of power by participation in groups
Social instability
Proximity to conflict zones
Influence of authorities
Lack of political ethics
Biased mass-media
Lack of coordinated cultural and educational programs at a regional level
High number of immigrants
Weak adaptation to immigrants
Political apathy among the population
Idleness of youth
Break down of the family
Nationalistic stance of the authorities
Realization of interests by the heads of movements
Alcohol and drug dependence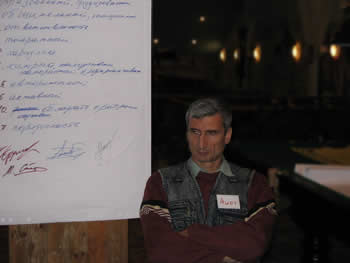 It is necessary to note, that participants in the questioning unanimously identified the mass-media as playing a principal role in the formation of active teenage interest in fascist ideology. The need to create a positive alternative to fascist groupings was also discussed. However, in the creation of any organization, its success or failure depends to a large extent on its leader.
Then, in small groups, we asked participants to formulate the basic qualities and characteristics which a leader of a youth organization should possess. Here is what they came up with:
The leader of a youth organization:
Responsible
Active
Sharp
Charismatic (should draw people in)
Cheerful (witty)
Creative
Sociable
Tolerant
Energetic
Informed
Sociable
Friendly
Competent
Broad outlook
Purposeful
Able to settle conflicts
Good public speaker
Organizational Skills
Curious
Moral
Disciplined
Educated, erudite
Artful, energetic, enterprising, resourceful
Authoritative
Decent
The list turned out to be outstanding.
One of Geert's main aims was to get young Russian NGO workers involved in all-European work by commemorating two historically important memorials- the 9th November and the 21st March. The 9th November was All-European Day of Opposition to Racism, and the 21st March was International Day of Tolerance. The more people, organizations and countries which take part in the events of these days, the more clearly youth resistance to fascism, extremism and xenophobia will be heard. We were very keen to encourage the Russian participants to express their views on this issue. Mirek told our participants about events carried out by youth organizations in different European countries to confront xenophobia. On the basis of the European experience, the participants came up with a list of activities and actions which could highlight these events:
Events:
Meetings
Processions
Street performances
Graffiti
Multiethnic festivals
Beach parties
Night torch processions
Getting celebrities involved
Concerts
Road trips to spread information
Campaigns
Press conferences
Planting of trees
Role plays
Какими ресурсами уже располагают ваши организации?
Какие ресурсы нужны вашим организациям?
Как привлечь молодежь?
Nevertheless in order to carry out such events in a successful manner it is important to establish what strengths your organization already has and ask oneself is it enough for success? The issues facing work with groups of young people is their lack of initiative and a reluctance to participate in activities. In three small groups participants reflected upon these questions:
What resources do your organizations already have?
What resources are necessary for your organizations?
How do you involve the youth?
These are the responses:
What resources do we have?
Human
Technical maintenance
Rooms to work from
Funding (albeit insufficient)
Ideas
Target audience (electorate)
Contacts within the authorities
Experience
Co-operation with the similar organizations
Understanding of local traditions and issues
Interaction with local authorities
Taxes
Books, videos, etc.
What resources are necessary?
Property
People
Ideas
Information resources (support of mass-media, the Internet, directories, databases)
Money
Technical equipment
Creative potential
Support of the state
Educational resources
Presence of own information channels
Knowledge of foreign languages
More people
Interaction with authorities
Exchanges with other states
Followers
How to involve youth?
Creation of a youth group
Cultural - mass actions
Creation of locations where young people can hang out in their spare time
Advertising

Media

Rendering of social support

Carrying out training programs

Increase the level of national consciousness

Widespread positive publicity

Creation of space for young people to come and work

Unite under one simple principle
Having discussed these burning problems, participants went back to work upon concrete actions which they would make a big effort to carry out in their own cities to commemorate the two days:
Lesson of tolerance at schools (a gathering with people in national dress, discussions about their own cultures)

Procession through cities

Showings of topical films

Disseminate posters and leaflets on public transport

At the main square- 18:00 a concert program (national, different types of music)

Procession on Leningradskaya Ulitsa, close to the fountain

Promotion

Publicity in mass-media

Press conference.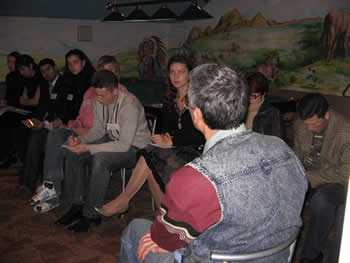 Knowing perfectly well that it is impossible to carry out all these activities at once, we asked the participants to choose one concrete activity that they will develop further. The participants from Samara agreed on a procession and together they came up with a detailed plan of how they would organize this:
Procession
Organizers
Choose definite place, time and gather participants.
To obtain the permission from administration
Gain permission from the Police and request the presence of first aid
Preparation of materials
Use media, internet and advertising to invite the public to join procession
Issue a press release
Assign roles to organizers
Gathering at office in day of procession, rehearsal of roles
Delivery of a distributing material and active workers to a place of procession of minute of tolerance
An hour and a half before the start of procession- distribution of materials indicating the route of procession
One hour prior to the beginning start directing people where to go
Participants from Tolyatti, chose to plan another type of program - carrying out lessons in tolerance at schools. We must admit that in our opinion this was a better choice. Experience shows that organizing a procession proves to be a very difficult task for youth organizations.

Working with young people can be a great pleasure, however we are not in Holland or the Czech Republic. Ashot Ayripetyan fielded the question "who, present here right now, would like to be the coordinator of such a procession in Samara?" Needless to say, no-one volunteered. One month later it was clear that nobody had organized the lessons in tolerance in Tolyatti. Civil society simply does not exist there and the ability to understand that if you yourself don't do it, no-one else will do it for you is lacking. It is true however that a school for "Youth Tolerance" has been set up in Samara, and the initiative for this came from the regional administration.

It would seem that to create a Network for ethnic organizations in Russia is not a simple task. Many of us are of the opinion that if they don't beat him up, they'll only beat someone else. Why bother? Can we resist racism on our own? What happens if one night, in a dark alleyway a group of skinheads stops you…?