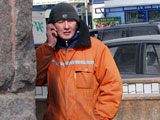 A local Uzbekistani Rashid Umarov detonated a homemade bomb while on his way home from the store.
- Late Monday afternoon a 26-year-old man came to the traffic police post at the intersection of Highway Ostashkov and MKAD and declared that in front of building 19 Severodvinsk street behind the fence of a parking slot, he had found a plastic bag. He told the police that he had decided to check the content of the package and after having unfolded it the explosion followed.
As it turned out, the package was a homemade bomb. At the explosion site, experts have found fragments of the detonator and electronic input boards of car alarms and surprising elements in the form of chopped wire (8 mm diameter). The bombs power equaled 200 grams of TNT.

The victim, according to the documents 26-year-old resident of Uzbekistan H. Shomuradovym, was taken to hospital with a missile wound to the oral cavity and mandibular fractures. Due to the incident an action was brought before court under the clauses of "hooliganism" and "possession of explosives". The bomber is still not found.
Source:msk.kp.ru